Overseas Americans in Taiwan
A not-for-profit, non-partisan organization devoted to to ensuring the rights and well being of Americans in Taiwan.

The intent of this organization is to form an orthodox voting block consisting of registered overseas American voters in Taiwan.
_____________________________________________________________
Dear friends,
Please read the following letter (pasted below) to the editor of the Taipei Times being circulated by supporters of the Sheih family. As Calvin Liu mentions in his Hyphen Magazine blog, there are currently very few English-language news reports that cover Dr. Shieh's arrest and detention in a well-rounded manner. This letter urges the Taipei Times to publish an accurate and comprehensive report on Dr. Shieh's situation.

The Shieh family welcomes others to contact the Taipei Times using this letter as a template. If, after reading the letter, you agree with its intention, please copy and paste it into an email message addressed to the editor of the Taipei Times at letters@taipeitimes.com. In the subject line of the email message, please write "letter to the editor." Please include your name, address and phone number at the bottom of the letter.

Thank you so much for your attention to this effort and for your continued support of Dr. Shieh. Please feel free to forward this message to others.

Thank you,




Dear Editor: I write to you as a person who is concerned about the paucity of well-informed media reports on the recent arrest and ongoing detention of Taiwan's former Deputy Minister of the National science Council (NSC), Dr. Ching Jyh Shieh. Dr. Shieh was arrested on May 24 under suspicion of corruption regarding a project at the Southern Taiwan Science Park to reduce vibrations from the high-speed railway that is being built adjacent to the Science park. He is being held without bail even though the prosecutors have yet to file formal charges of any kind and, in fact, admit that they have not found any evidence of bribery or embezzlement. Thus far, only a small handful of Taiwan-based news reports have covered Dr. Shieh's situation, and all have revealed little more than the bare fact of his arrest. What is even more disturbing is the tendency of these reports to frame Dr. Shieh's detainment within a broader implication of widespread Democratic Progressive Party corruption under President Chen Shui-Bian. Given the sketchy content and contextual suggestiveness of such reports, readers are likely to walk away with the notion that the prosecution actually has a strong case against Dr. Shieh, even though that notion could not be further from the truth. The basis of their case is the apparent discrepancy in price between the chosen project by Hung Hua Engingeering Co at 8.05 billion NT and runner-up project by Yung Chun Co. at 1.8 billion NT. A more careful look into the case, however, will show that the Hung Hua project was a more innovative, intricate design that would be more likely to solve the problem. Furthermore, pricing assessments were made by an independent engineering consulting company, Zhonghua Engineering company, a highly reputable engineering company in Taiwan. The prosecutor has yet to uncover any other facts that may support the notion of corruption in this case. These details of the case, along with many others, have not been adequately reported in the media. I am aware that, on Friday, April 28, The Taipei Times published a well-rounded report of NSC officials' countering of Yung Chun's accusations of irregularities during bidding to reduce train vibrations (http://www.taipeitimes.com/News/taiwan/archives/2006/04/28/2003304941 ). The comprehensiveness and objectiveness of that Taipei Times report stand in stark contrast to other newspapers' recent irresponsible coverage of Dr. Shieh's arrest and detention. In light of The Taipei Times' commendable record of providing accurate information about allegations of NSC wrongdoing, I am hopeful that The Taipei Times will soon publish a balanced, well-researched report of Dr. Shieh's arrest and detention. Sincerely,
_____________________________________________________________
Cut and Paste Template.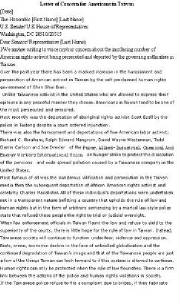 Click the picture.
NEW
Americans in Taiwan!
Please write your congressperson to protest the targeted deportation of Americans in Taiwan.
_____________________________________________________________
_____________________________________________________________

_____________________________________________________________
Documentation: View PACE IU Strikers Deportation Orders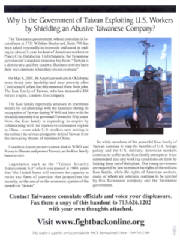 Five American Hunger Strikers Deported from Taiwan
Article: An American Tragedy Made in Taiwan
Taipei, Taiwan June 16, 2004

Police surveillance and threats of arrest and deportation continue to shadow the hunger strikers protesting at China Synthetic Rubber Company and Taiwan Cement over the environmental pollution and three-year lockout at the companies subsidiary, Continental Carbon Company.

Three of the hunger strikers--Todd Carlson, Dave Westerman and Ralph Mangrum--are members of the Paper, Allied-Industrial, Chemical & Energy Workers (PACE) International Union who have been locked out of their jobs for three years at Continental Carbon Companys facility in Ponca City, Okla. The other two hunger strikers are PACE Intl. Union officials. All five are entering their seventh day of the hunger strike.


The Taiwan Foreign Ministry has threatened the hunger strikers with arrest and deportation for displaying any indication of their hunger strike in public. Police also have closely followed them.


Joe Drexler, PACE director of special projects; Greg Schulz, an AFL-CIO representative; and Melinda Newhouse of the United Steelworkers of America were met by over 30 police when they arrived at the American Institute in Taiwan for a meeting. The institute serves as the U.S. shadow embassy since the U.S. does not have diplomatic relations with Taiwan.

A similar incident happened the same day at another meeting attended by all the hunger strikers at the agency that regulates Taiwan's corporations.


"There is obviously a problem with free speech in Taiwan," said Drexler.


_____________________________________________________________
Documentation: View Scott Ezell's Deportation Orders and Injunction
On July 29, 2004 the government of the Republic of China on Taiwan issued a second deportation order identical the first for Scott Ezell effectively circumventing the court ordered injunction of the original deportation. There is no judaical oversight of deportations on Taiwan and foreign nationals are denied many of the most basic human and civil rights given to Chinese nationals.
On May 23, 2004 to mark the one year anniversary of his disappearance a benefit concert was organized for missing American Fred Frontier's family in Tian Hsiang, Hua Lien. Scott Ezell was the lead performer and organizer for this event .
Two weeks later Scott Ezell received a legal notice in the mail informing him that he was being deported for participating in an illegal performance. Please help rectify this great injustice, sign the petition and contact your elected representative about this human rights abuse being perpetrated against an American citizen by the government of the Republic of China on Taiwan.
Help Scott by signing this petition.
_____________________________________________________________
Documentation: Missing American in Taiwan Fred Frontier
Mrs. Barbara Klita
PHOTO LI, YU-CHING Taiwan Times
Any persons with any information or offers of assistance are requested to contact Mrs. Barbara Klita at their earliest possible convenience.
barbaraklita@collegeclub.com
In Taiwan Call,
09 3957 7852
Mailing address in Taipei:
Number 2, 12th Floor,
Shin Shen S. Rd., Section 2,
Shin Yi District
Taipei, Taiwan